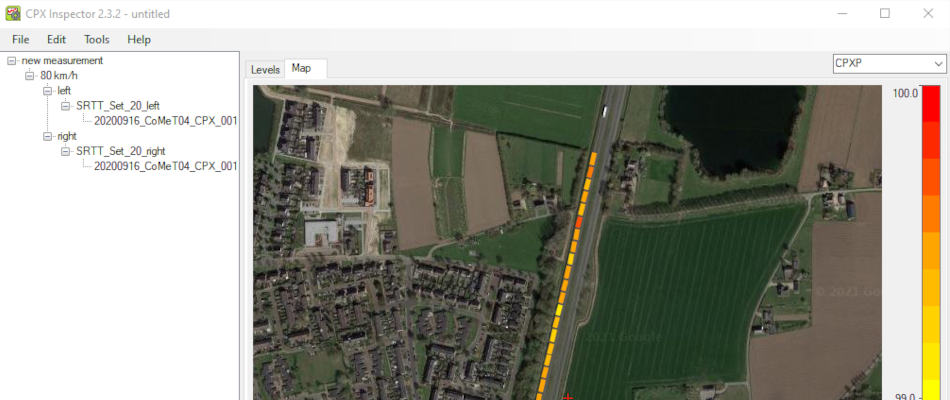 Quick and reliable analysis of CPX-measurements with CPXInspector
In 1997 we started building our own trailer for conducting measurements according to the Close-Proximity (CPX)-method. In a small trailer the sound levels on specific microphone positions around the tyre are measured while driving. In 2009 we developed the CPXInspector software to quickly and reliably process and analyze these kind of measurements. For the development we used our extensive know experience with performing CPX-measurements. We also used the insights from the ISO committee. CPXInspector is the analysis software of our CoMeT-system, but can easily be adjusted to read files from your data acquisition system.
Highlights
Efficient analysis of CPX-measurements according to ISO 11819-1. You'll get insight in the results per tyre, per measurement run, per side (left and right) and per 20 meter segment. Both overall levels and spectral analysis are shown.
We'll help you to read files from your own data acquisition system in CPXInspector.
You'll directly see the CPX-results on a map in CPXInspector. You can also export the results to your own GIS environment.
The properties of the trailer and tyres are saved in file that will especially be made for you.
If you have a maintenance contract, you'll always have access to the most recent version of the software. You'll also have access to our support desk.
Analyzing measurements with CPXInspector
Analyzing a measurement is easy with CPXInspector. After the results are exported, you can directly read them in CPXInspector. In the software you can enter the details of the measurement. In the next step you can select the start and end point of the analysis on a map. After the analysis the results are visible in a tree structure. Here you can find the results of individual measurement runs. The results of the measurement can optionally be exported to an Excel file that is tailored for your corporate identity (logo and color) and can be used in reports. 
The video below shows you the simple steps to analyze a measurement run in CPXInspector.