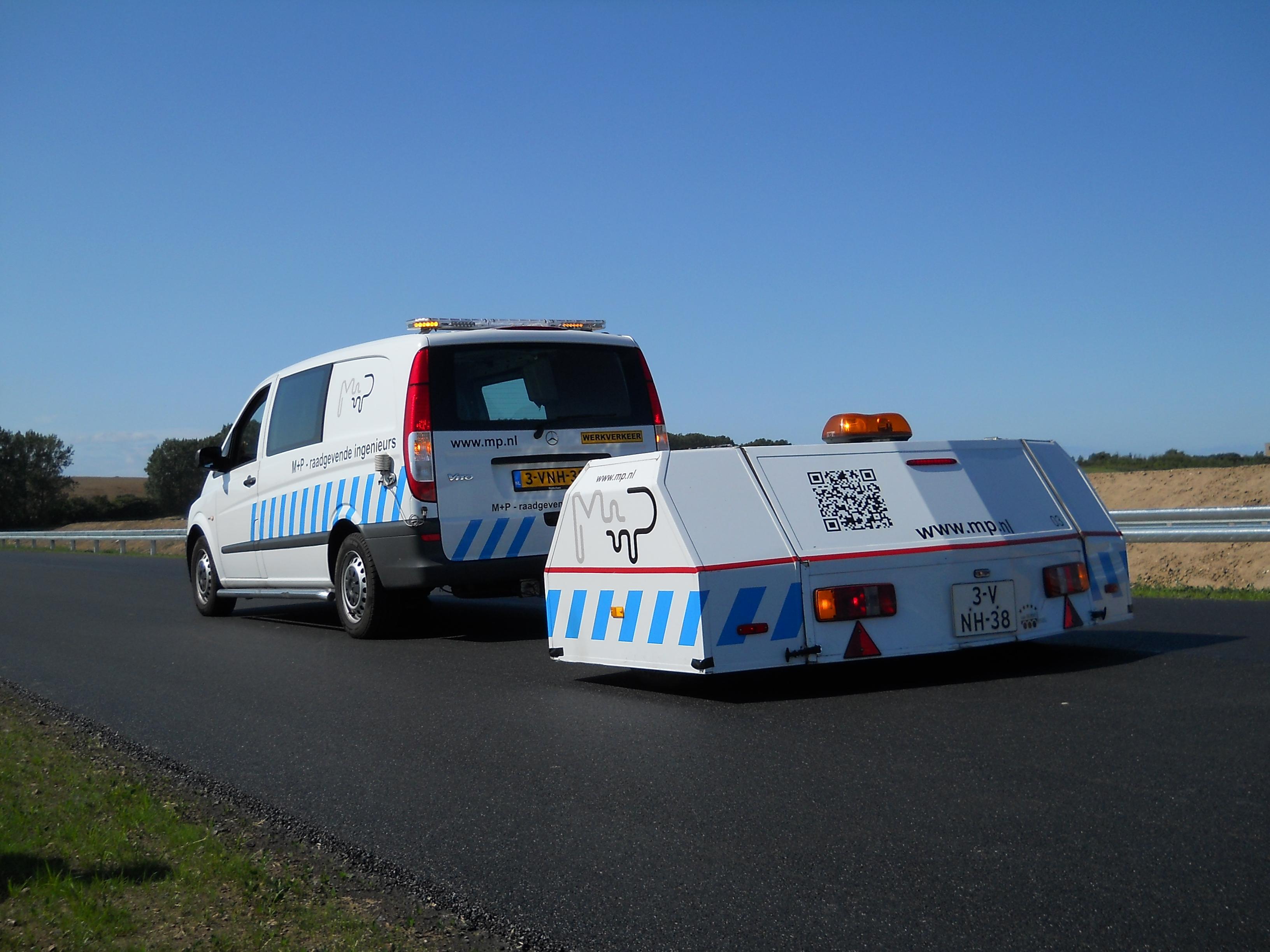 CPX-measurements
The CPX trailer is a practical instrument for the rapid measurement and assessment of the sound properties of longer sections of road surfaces. Anyone involved in laying a low-noise road surface will certainly be familiar with the corresponding noise-reducing requirements. The CPX method is the most widely-used approach for determining whether the low-noise road surface meets these noise-reducing requirements.
Our own design
We have developed our own measuring system, which we can use to conduct measurements in all kinds of circumstances. A great advantage of the M+P trailer is that the effect of any source of interference is minimal. The M+P trailers are fitted with a sound-absorbing casing (a semi-anechoic chamber). This keeps the microphones shielded from wind noise and interference noise from the background traffic and the towing vehicle. As a result, no further traffic measures are necessary when performing CPX measurements and the M+P trailer can be deployed in any situation.
Rijdend meten
With the CPX method, the acoustic properties of the road surface are determined while moving along the road. This presents some interesting possibilities. CPX measurements are frequently used for the annual monitoring of the acoustic quality of the road network. We regularly conduct monitoring programs for governments using the CPX method. Because the information is automatically linked to the position on the road section via GPS, the sound properties of the road network are easily mapped.
Internationaal gebruikt
The CPX trailer from M+P has come to be a familiar sight on European roads. Various fellow engineering firms, road authorities and government bodies in Europe have an M+P CPX trailer in operation. All over the world about 20 fellow-engineering offices, road managers and government agencies together use 25 M+P CPX-trailers.
Applications
Close-Proximity (CPX)-metingen according ISO 11819-2
Acoustic assessment of road surfaces shortly after construction and testing against specification requirements
Monitoring acoustic behavior of road surfaces over the years
Compare acoustic behavior of different tires (for passenger cars and vans)