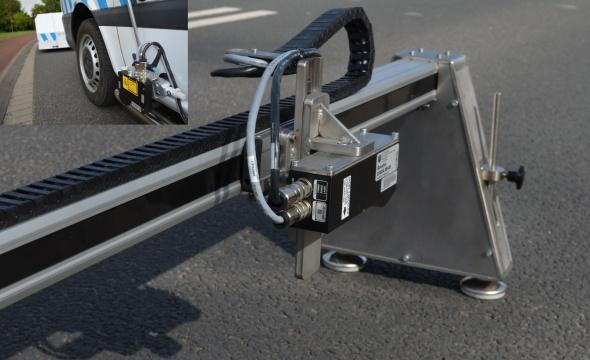 Road surface texture is important for noise, rolling resistance, and wear
Christiaan Tollenaar: "M+P is familiar with all aspects of noise generation on road traffic. There are a number of factors that determine how much noise is generated by the road and a vehicle on it. Texture is a factor that gets more and more attention in the development of road surfaces. Not only because texture determines, at the source, how much noise comes from the tyres, but also because texture has an influence on rolling resistance and hence on fuel consumption and CO2-emission from cars and trucks. Besides that, a texture measurement can tell when it is time for maintenance. In summary: a texture measurement gives interesting and useful information. Because we decided that texture measurements could be done better and easier, we built the equipment ourselves."
Goede textuurmeting voor stiller en schoner verkeer
Textuurmetingen vertellen veel over het wegdek. Gemeentes en provincies kunnen met de metingen snel de staat van hun snelweg bepalen en daaruit afleiden of onderhoud nodig is. Wegenbouwers gebruiken textuurmetingen en -gegevens om stillere wegdekken te ontwikkelen. Rolweerstand is een onderwerp dat steeds vaker ter sprake komt als het over schoner verkeer gaat. De precieze relatie tussen rolweerstand en textuur moet nog verder onderzocht worden, maar zeker is dat textuur kan bijdragen aan brandstofbesparing.
Apparatuur waar je wijzer van wordt
M+P ontwikkelt en bouwt graag zelf. Zeker als we verbeterpunten zien in de bestaande apparatuur. We wilden textuurmeten praktisch en goedkoper maken, zodat ontwikkelaars en beheerders van wegen de metingen snel en veelvuldig kunnen inzetten. En daarnaast zorgen we er ook voor dat de resultaten goed te interpreteren zijn. We maakten twee meetapparaten; geschikt voor lange stukken weg en voor meting op een bepaald punt (stationair niveau). Het meetapparaat voor lange afstanden kan gemakkelijk gekoppeld worden aan de CPX; de compacte trailer van M+P die geluidproductie van het wegdek meet en die koppelt aan eigenschappen van het wegdek. Zie ook flashm.