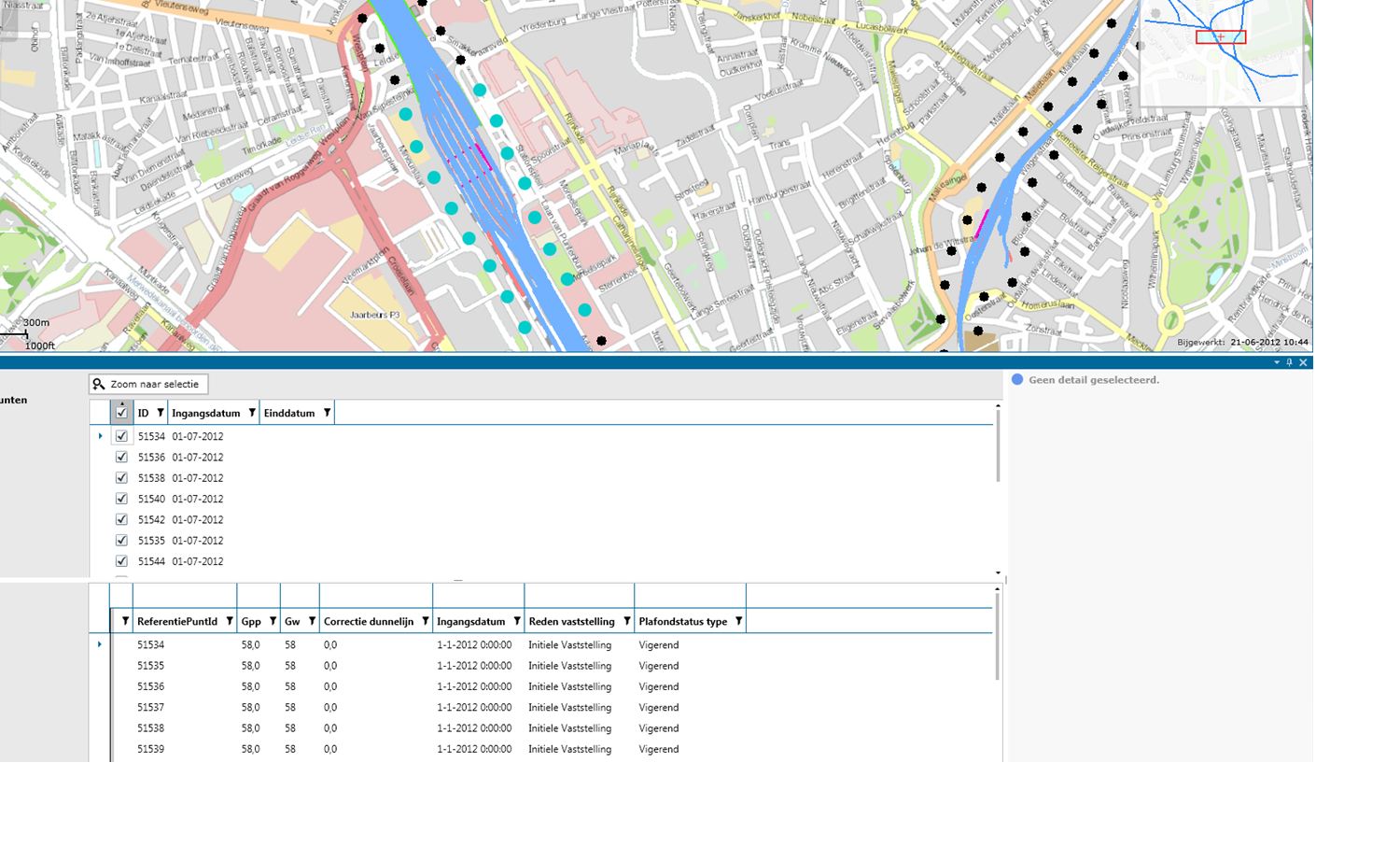 ProRail and M+P put the entire Dutch railway system into a computational model
Ard Kuijpers: "In July 2012, the SWUNG law came into effect, meaning ProRail now needs to publicise all of their noise production data. The noise register that ProRail manages contains various noise related data about the Dutch railway network and its surroundings. For instance, the location of sound barriers, what trains go at what speed, the location of platforms, etcetera. ProRail had all these data available, but they weren't suitable to use as a solid basis to compute the noise production of the entire Dutch railway network. It was unexplored territory for us – nobody had ever tried to capture existing data on track and surroundings in a computational model. However, we don't shy away from new frontiers. We chose to compile the model in an entirely automated way. We wrote software that is set up in such a way that every small change to the network or its surroundings can easily be implemented. Our approach worked so well that ProRail ended up integrating various modules in their own software."
Orde in gegevens
De gegevens die samen de geluidproductie op een bepaald punt van het spoor bepalen, zijn divers en veelomvattend. Ze waren verdeeld over verschillende afdelingen, databases en programma's. Gegevens waren niet altijd compatibel en compleet. We vonden het belangrijk om een lange termijn visie te bewaken over het geluidregister. Het moest dus solide in elkaar zitten, het was nu de tijd om de zaken te structureren. 
Liever automatisch 
Niet alleen voor de overheid, maar ook voor Nederlanders die dichtbij het spoor wonen, moet zeker zijn dat de gegevens over geluidproductie kloppen. Menselijke fouten wilden we zoveel mogelijk uitsluiten, en veranderingen in brongegevens makkelijk kunnen doorvoeren. We kozen voor een volledig automatische verwerking van de data. In ArcObjects (ontwikkelomgeving voor ArcGis toepassingen) maakten we conversiemodules waarmee het hele geluidmodel vanaf de brondata automatisch wordt samengesteld. Alle stappen zijn gevangen in programmacode, en daarmee eindeloos te reproduceren. De modules zijn afzonderlijk getest en goedgekeurd. Als er een databestand wijzigt genereren we binnen een paar uur tijd een update van het complete model. Voor heel Nederland!
ProRail integreert modules in eigen software
Uiteindelijk bleken de modules die M+P ontwikkeld heeft zo handig, dat ProRail ze overnam en integreerde in haar eigen software. Voor ons het bewijs dat we als klein bureau slim en proactief kunnen werken. Het project geluidmodel motiveert ons om steeds die extra stap te zetten. Niet alleen de klant wordt er wijzer van; wijzelf ook.