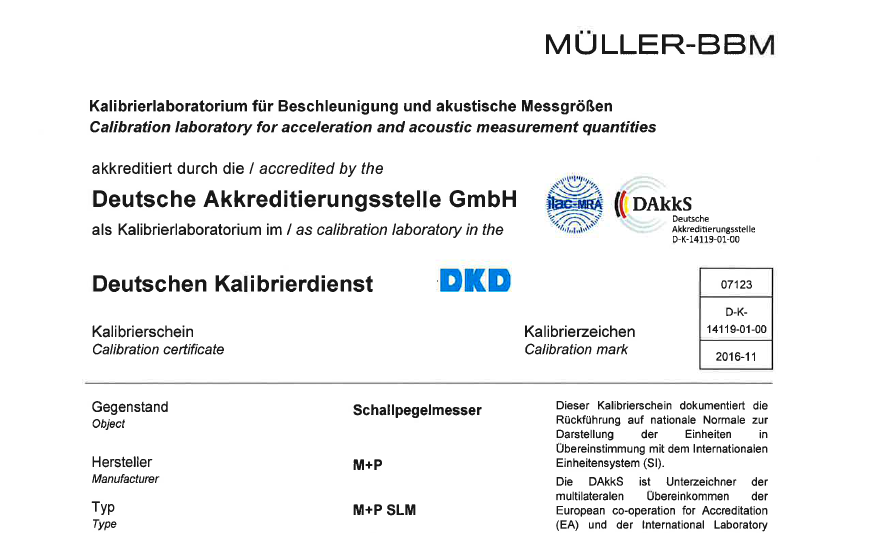 Our software components comply with most stringent acoustic standards
Our sound measurement software components comply with all specifications for a class 1 sound level meter. That was confirmed after our components were tested externally according to the most stringent acoustic standards. This means that the products in which these measurement components are integrated, have sufficient accuracy and dynamic range for all environmental measurement tasks.
Our software components have been verified and approved by the accredited test laboratories of (our sister company) Müller-BBM.
To be able to test the software components, we had to develop a sound level meter. This is because the most stringent acoustic standards have been developed for physical sound level meter devices, not software libraries. But these libraries are the modern equivalent of the electronic circuits that were used in the past. 
Our in-house developed Sound Level Meter (SLM) uses the same measurement hardware components and software libraries as in several M+P measurement systems (e.g. SToRM). SLM uses a minimum of code to access the hardware and process its data to the following quantities:
time-weighted sound level (LAτ);
maximum time-weighted sound level (LAFMax);
time-average sound level (LAF).
The measurement system is designed to operate within the specificities of IEC 61672-1: 2002 and IEC 61672-1: 2014. The purpose of SLM is to enable a third party to assess the validity of this claim. Müller-BBM submitted the measurement system to all applicable tests of IEC 61727-3: 2014. This standard verifies that the measurement system actually meets the specifications of a class 1 sound level meter of IEC 61727-1: 2014. The certificate shows that SLM complies with the specifications imposed on a class 1 sound level meter; the most stringent specification that a sound level meter can have.