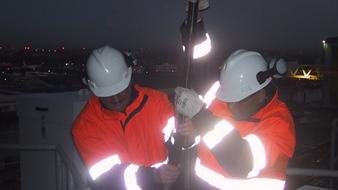 Ronald and Richard, a team at work (2/50)
No one has yet been able to celebrate 50 years of working at the 50-year old M+P. But with 38 years of service on the clock, Richard Florentinus is currently in the lead. He is closely followed by Ronald Gijsel, who has been deploying his talents for the company for more than 33 years. Together they have a huge wealth of experience in the world of sound and vibrations.
During their long career, they have successfully completed many assignments together. For example, last summer they conducted an investigation into the enforcement of the noise regulations at a motocross race-track in Zeeland after complaints about noise pollution. This assignment was especially interesting for Ronald because he used to go there to watch the motocross competitions as a child.
Safe measuring
Ronald and Richard work very well together; they keep each other on their toes. And they have to, because performing measurements is not always as safe as it seems. "Not everyone is happy when we come to take measurements," says Richard. "We get pushed around or sworn at. And we run a completely different kind of risk if we have to perform measurements on roofs, for example. Jumping from one roof to another, or even jumping from one ship to another. It all contributes to making the act of taking measurements exciting and varied."

Talk about exciting
Richard once saved his colleague's life. It was during the times they still wore a tie when carrying out their noise measurement, and a VCA diploma was not mandatory. But it is something Ronald will never forget. "We had to measure the sound of a floating crane standing on a pontoon. We wore safety helmets according to the regulations. But the big peak on the hat prevented me from seeing upwards. As a result, I did not see that the crane was just about to place a huge grabber on the spot where I was standing. Richard was able to pull me away just in time!"

Great contact with colleagues and customers
Thankfully, despite the mishap, the two have been able to add more years to their collaboration with colleagues at M+P. "They are great people, and there is a good atmosphere with a supportive hierarchy. We like to help each other out," says Ronald. "And we love the contact we have with our customers. From the old lady who thinks she can hear something in the apartment below, the wealthy family members who want to find out if they can get their swimming pool to run a little quieter, and the large transshipment company in Europoort Rotterdam," adds Richard. It's good to hear, because there is still plenty of noise in the Netherlands.