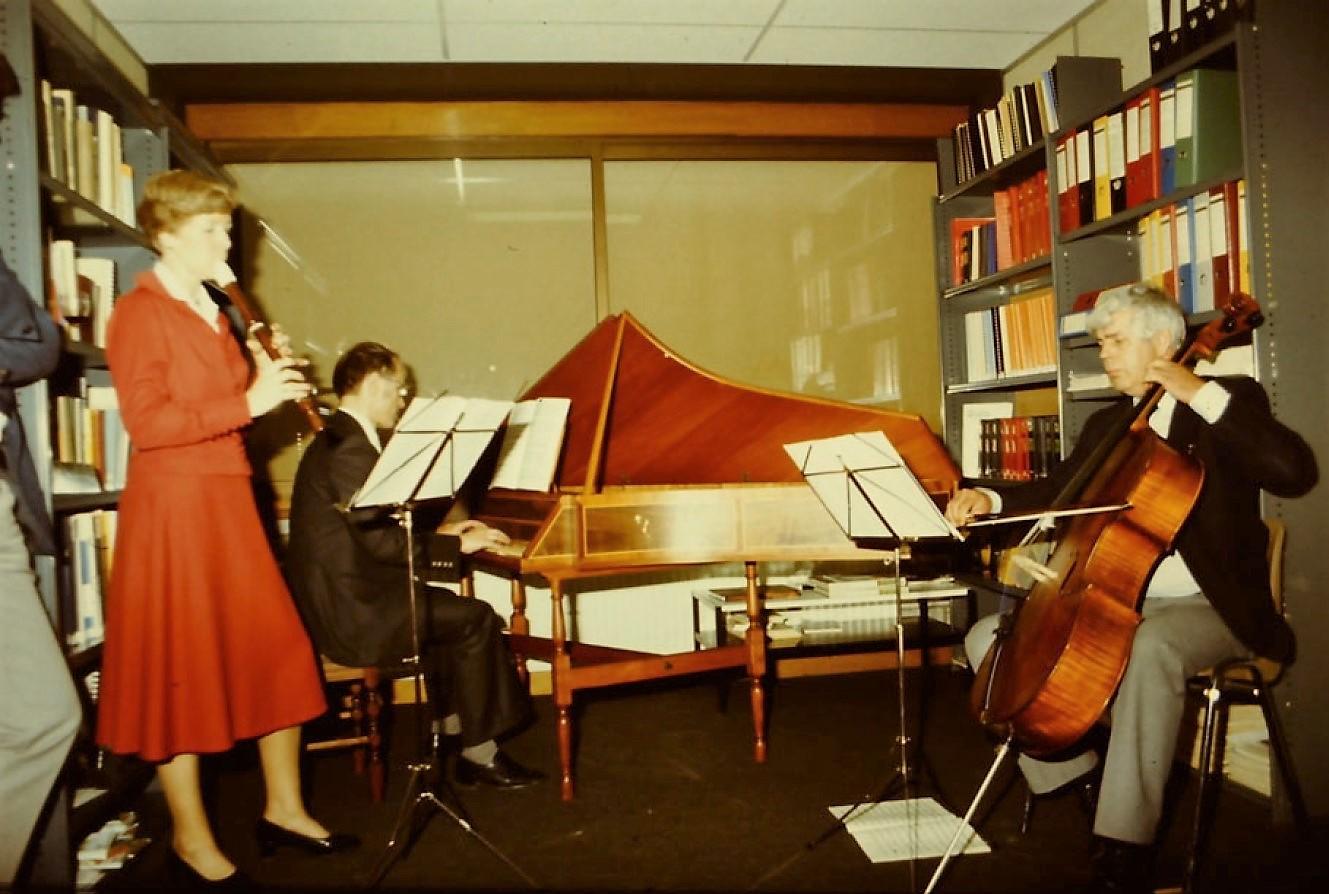 The beginning of M+P – 3. Memories of Dr. Alexander von Meier (24/50)
Between 1971 and 1996, when he ended his duties as director of M+P, Dr. Alexander von Meier – Alex to employees – had some great experiences that turned into some very vivid memories. And he shared some of them with us during a pleasant video conversation in which his wife Renate and daughter Ulrike were also present.
"It was not easy in the Netherlands at first. I had taken over the company under the assumption that Afrikaans, the South African language, was the same as the Dutch. But even after 3 months at Müller-BBM, and after very intensive language learning, I could still only speak a little Dutch.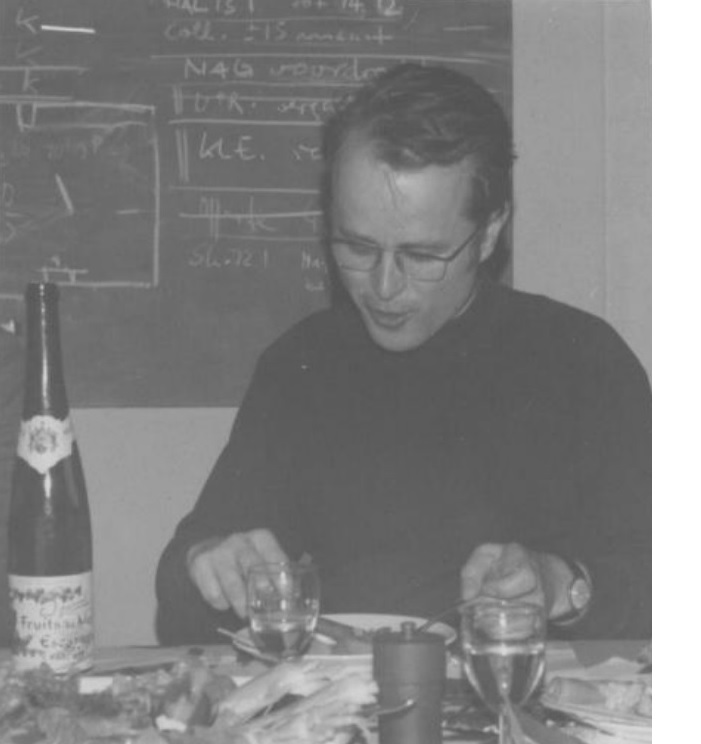 Settle down in Amstelveen
I was finally able to bring my family over from South Africa after I had found some accommodation in Amstelveen. Abraham Melzer was still around to train me during those first months, and our families developed a close bond. Fortunately no one ever had a problem with my German nationality, even though many customers were Jewish like my predecessor Melzer. At the time, I sometimes felt that the Dutch were still trying to make amends with regard to Jews. Abraham Melzer had just returned to Israel when an architect invited me to a large office building to discuss a new project over a cup of coffee. When the architect found out I wasn't Jewish, the project was over before it had even started.

My plans with M+P
My business plan was to take over the existing customers. I didn't do much in terms of hall acoustics, but building acoustics was a hot item. I also had plans to become an adviser to the government, which worked out well in the end. I also had a philosophy: I wanted to give employees plenty of personal responsibility and allow them to participate financially as soon as possible. I worked out a formula for this with Chris Nierop. I don't remember exactly what it was, but the principle was that it was not to be given as a present. I sold a small portion of my 25% shares and Müller-BBM sold a little more from their 75% shares. What did it do for the employees? Their sense of responsibility and involvement increased. Overtime was worked, even at night; and there was more than enough willingness to put in that little bit extra. I sometimes joked that it could be seen as a form of exploitation.

A foothold with the government
Then in 1973 the Netherlands was hit by an oil crisis and suddenly work in the construction world dried up. It was a difficult time and we were no longer able to pay the salaries. We got through the crisis by conducting research for the government with 3 colleague agencies (Lichtveld and Buis, Van Dorsser and Huygen); these were the first steps towards a noise nuisance law. Together we formed Nederlandse Onafhankelijke Raadgevende Akoestici (NORA), [Dutch Independent Consultative Acousticians]. Finally – thanks to the energy crisis, actually – we had a foothold in the government. Our M+P colleagues thought this was an excellent strategy because the new orders from the government meant the salaries could be paid again. And I was now working with the government on new regulations; in fact, an attentive reader of the regulations may recognise the characteristic German sentence structure in some of the implementing decrees and AMvBs – Algemene Maatregel van Bestuur [General Administrative Orders].

Enjoy together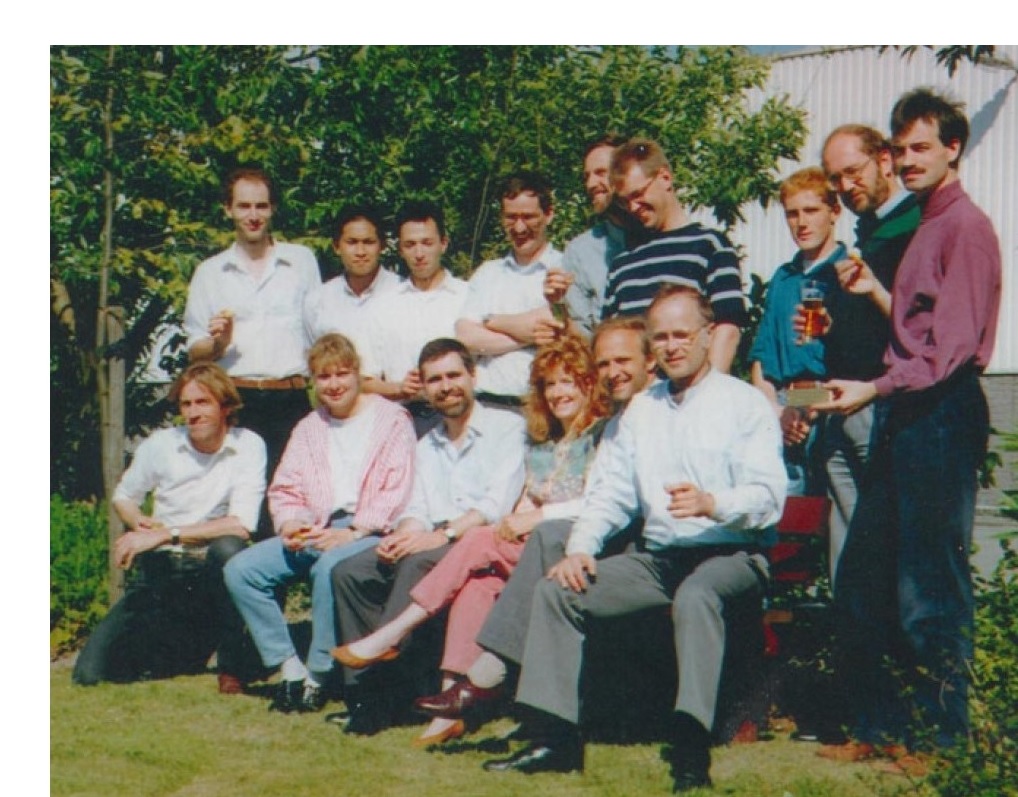 We worked hard, but doing things together and enjoying life is something I have always found very important. For example, having lunch together every day and playing table tennis regularly. We also enjoyed an annual staff outing, which was organised by the most recently hired employee. With the help of a committee, of course; but he or she had to come up with the idea. An unforgettable moment for me was the inauguration of the new office in Aalsmeer when we played jazz music together. There was even a grand piano and my daughter Ulrike sang. And I remember one time on my birthday, some of my colleagues woke me up playing their instruments in my garden very early in the morning.

Sinterklaas surprises for VROM
Delivering a present and poem to the Ministerie van Volkshuisvesting, Ruimtelijke Ordening en Milieubeheer (VROM) [Ministry of Housing, Spatial Planning and the Environment] with Sinterklaas was a nice tradition. The head of the department had to read the poem. We once had a road surface baked from German poppy seed cake on a 2 metre long oven scoop; the poppy seed coloured the road surface beautifully black. And there were small Playmobil traffic signs in the green marzipan verges. We even once took the entire department of VROM to the Oktoberfest in Munich, which was a great success. It was a different time, you could still do that sort of thing.
Many beautiful memories   
If I could do it all over again, I wouldn't change much. Maybe I would take a slightly longer break in the afternoon? It was long enough to do a little gardening at the office in Aalsmeer, but a little too short to go surfing in the nearby lakes.
I have many fond memories of my time at M+P. There was a great diversity of projects, one even as far away as Saudi Arabia. And the creativity of the employees was outstanding. I am thinking, for example, of a home-made quartet game and the "ABC der Akoestiek" booklet. But above all, there was a lot of humour, and I really enjoyed that."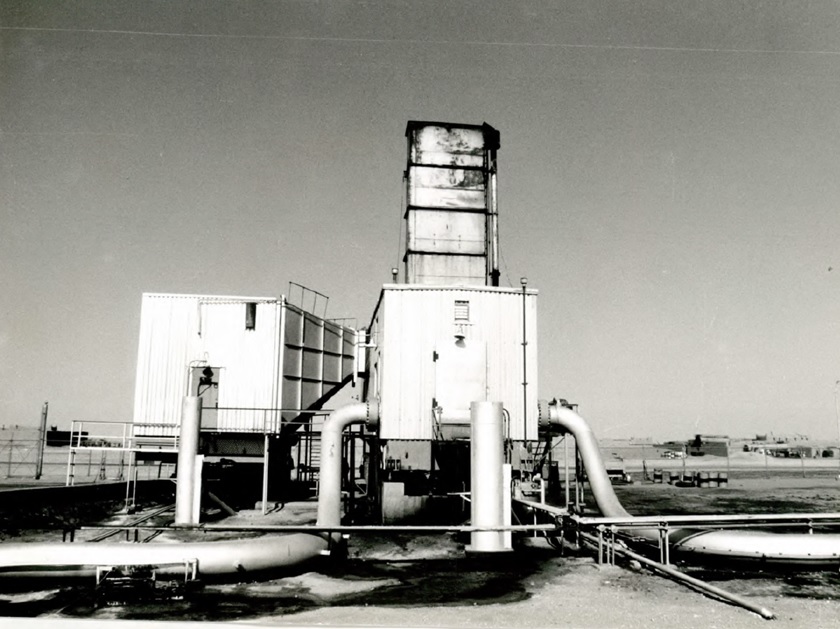 The pompunit in Uwaigilah, Saoedie-Arabië (Trans-Arabian Pipeline) where Alex took measurements in 1973.